FM'19 Sponsors
The corporations below have been so kind to sponsor FM'19 – thanks!
FM'19 specially sponsored by
Platinum
Gold
Silver
Bronze
Basic
Industry Tool Exhibitors
Other partnerships
How to Sponsor FM'19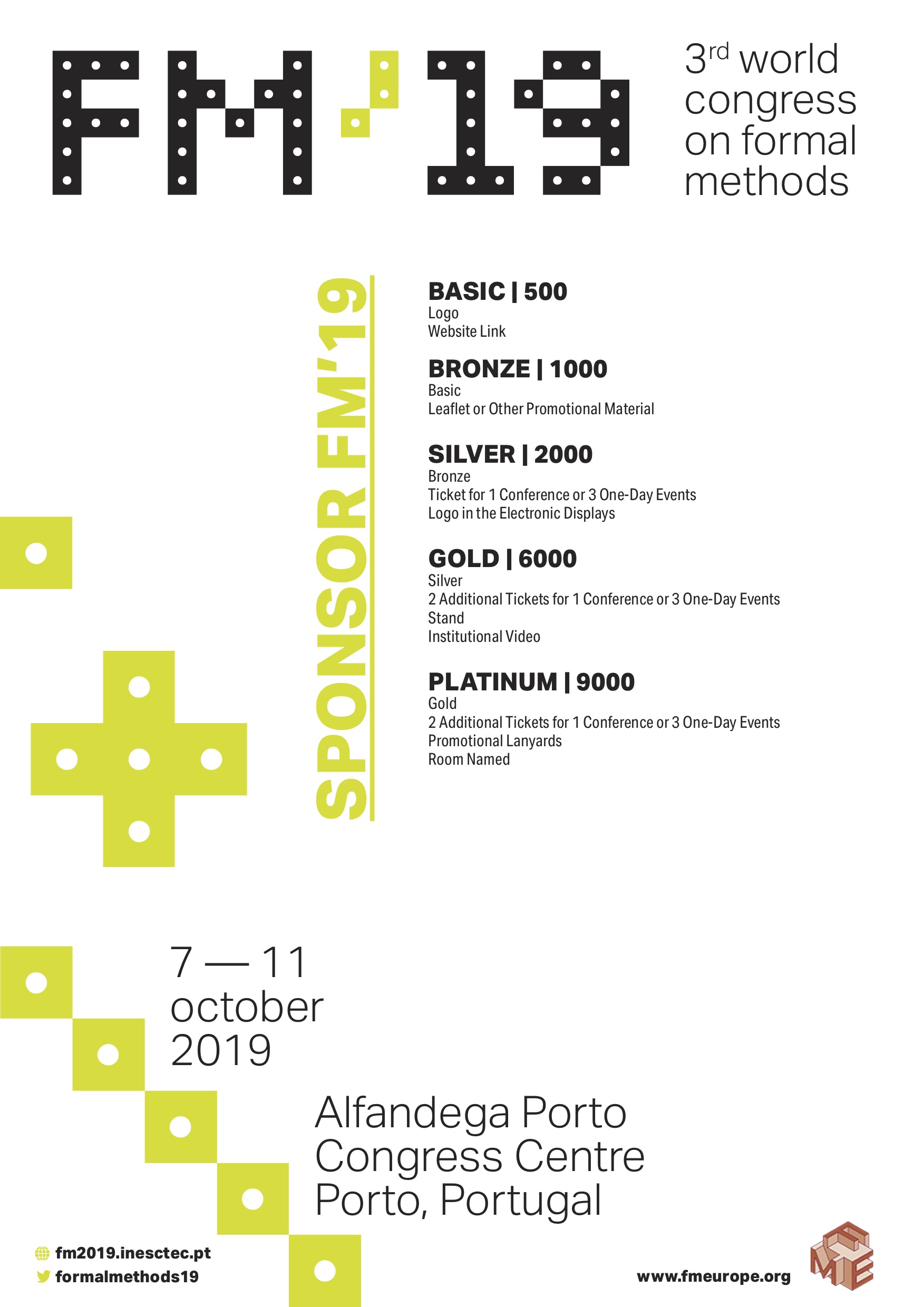 The FM'19 World Congress expects participants from all over the world.
Industry and organizations wishing to support FM'19 will gain prestige and world-wide visibility by contributing to the world's premier congress in formal methods. Also hosting a number of highly reputed co-located conferences and workshops, the world congress spreads over a variety of subjects relevant to computing as a whole.
Sponsors generosity will help decreasing registration fees for students from all over the world wishing to attend the congress. By advertising their company sponsors may find potential new employees among them.
The list below mentions five standard sponsorship modalities. Other opportunities for supporting FM'19 are welcome, such as sponsoring a particular social event, an invited speaker, the welcome reception, student participation, or other ways of contributing to the congress.
Questions about how to contribute to FM'19 may be directed to the sponsorship chair, Dr. Ana Paiva, at apaiva@fe.up.pt or +351 220 413 318.
Basic
€500

Logo + www link in the 'Sponsors' section of FM'19 main page

Bronze
€1000
Basic +

Leaflet or other promotional material provided by sponsor in bag of every FM'19 participant

Silver
€2000
Bronze +

Ticket for either one conference or three one-day events (i-Day, workshop, tutorial, etc)
Logo of sponsor to be interleaved in the electronic displays throughout the conferences

Gold
(see note below)

€6000
Silver +

Two additional tickets as above
Stand / demonstration area in the lobby (desk + chairs + power supply)
Institutional video (max. 3 minutes) to be played during breaks (timesharing FM'19 announcements etc)

Platinum
(see note below)

€9000
Gold +

Two more additional tickets as above
Promotional info printed in badge ribbons of participants
Room named after sponsor for the whole week
Notes:
In case of student sponsorship, item "logo of sponsor to be interleaved in the electronic displays throughout the conferences" can be replaced by the right to address the sponsored students in person.